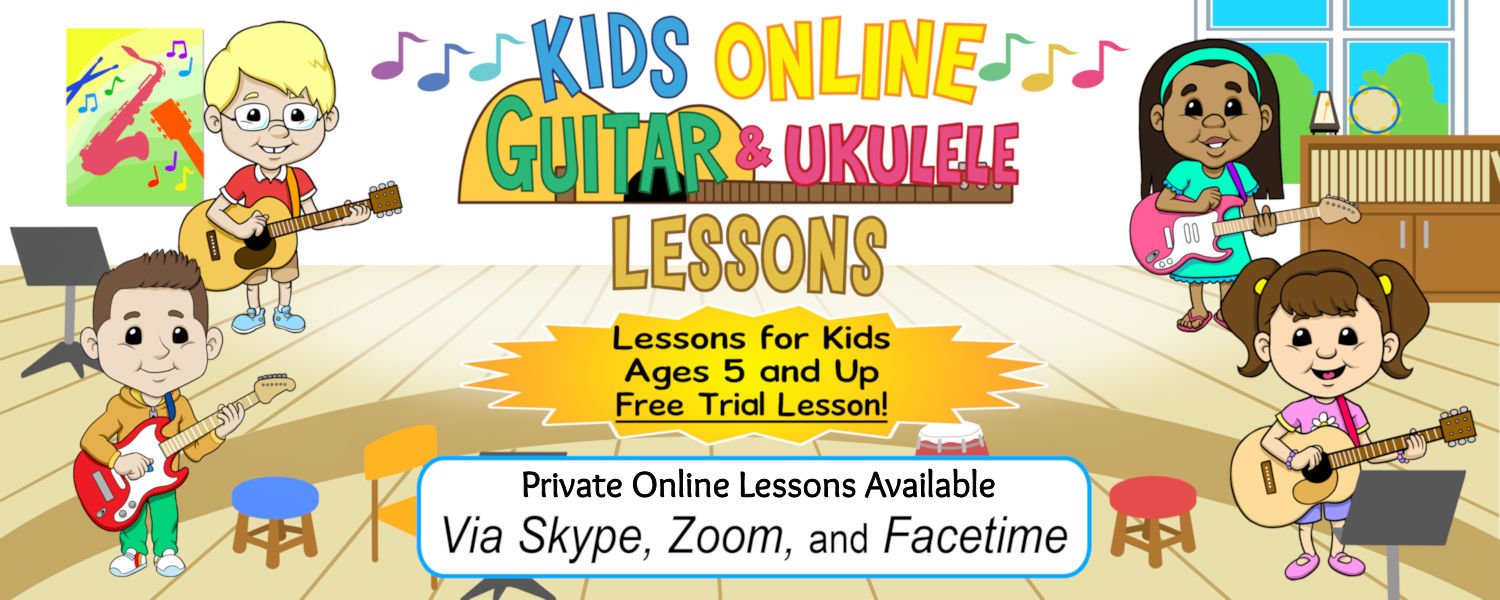 Kids Online Guitar Lessons - Kids Online Ukulele Lessons
Online Guitar Lessons for Kids
Online Ukulele Lessons for Kids
Skype  --  Zoom  --  Facetime
Learn Guitar or Ukulele at Home!
-- Free Trial Lesson --
The instructor is so patient, kind, and encouraging!  My daughter loves going to lessons and even loves to PRACTICE!
Excellent quality and affordable prices, can't be beat!       -- Rhea S.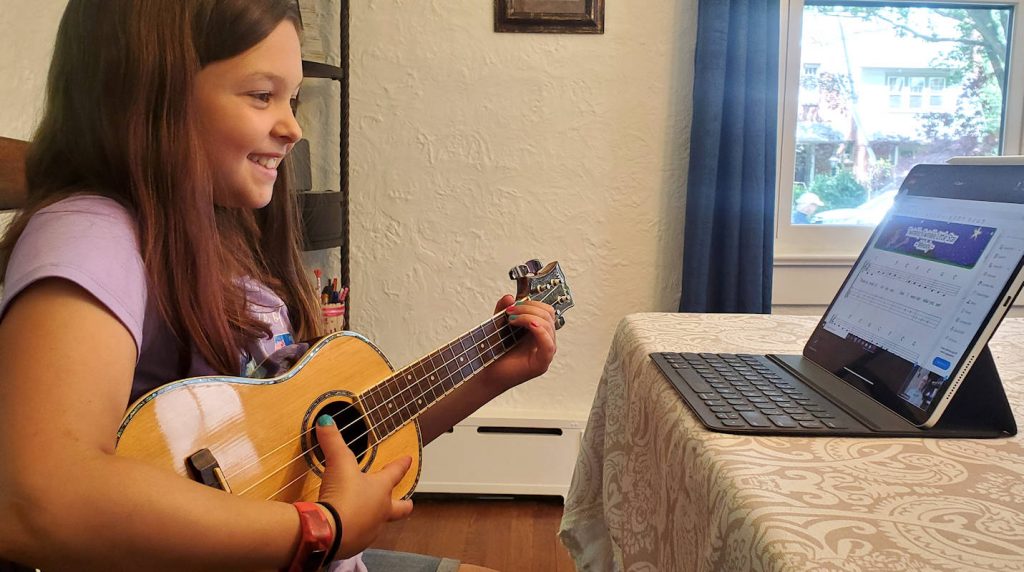 Why Learn Ukulele?
●   Ukulele is an easy & inexpensive instrument for young beginners. 
●   Ukulele is a wonderful choice as a first instrument - a great
"first step" for anyone interested in playing guitar later in life.
●   We provide a unique, child-centered Ukulele Curriculum.  
My son looks forward to his weekly lessons and feels so accomplished when he learns to play and sing a song.
His confidence has grown and he takes such pride in his guitar playing and singing.
We highly recommend this business!      -- Irma D.
Why Learn Guitar?
●   Guitar is one of the easiest instruments for a child.
●   Small guitars are affordable and a perfect "fit" for kids.
●   Kids love guitars -- they think guitars are cool!
●  We provide a unique, child-centered Guitar Curriculum.  

To see Delaney playing music brings us great joy.  ​She is so proud to share what she learns.
Thank you Kids Love Guitar!​        -- Ralph M.
Why Learn Here?
●   We've developed unique & effective curriculums -- Just for kids. 
●   Our student retention and success rates are above 90% -- Our Students Succeed!
●   We know how to make learning:  fun, easy and effective. 
●   We provide personal, on-line instruction.  Your child will learn guitar in the comfort and safety of your own home.
My son has autism and gets overwhelmed easily, then wants to give up, but this hasn't been an issue at all.
Thank you, Mr. Tom, for the gift of guitar lessons, which add a measure of well-being to the life of my son!
-- Taffy H.
Why Learn Now?
●   Childhood is the best time to begin learning an instrument.
●   The ability to play guitar or ukulele helps promote social bonding with other children--as well as with adults.
●   Learning an instrument helps develop patience, self-esteem, discipline, and social skills.
●   Children need a productive "at-home" hobby--now more than ever!
My son is 4 years old and studies with Nick via Skype.
It has gone so well, and I am loving seeing the progress.  Nick is patient, fun, and super great with kids.
He also has custom-made arrangements and materials for teaching that are waaaay better than anything else I've seen.
-- Briawna A.
Learn Guitar or Ukulele -- No Matter Where You Live!
We Offer a Free Online Trial Lesson!